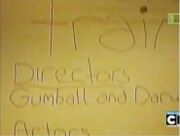 Alligators on a Train
is a movie in
The Amazing World of Gumball
that appeared in
The DVD
. Nicole rented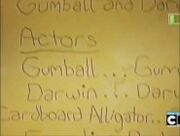 the movie from Laser Video before. In
The DVD
, when
Gumball
unintentionally used the wrong side of the sponge to clean the CD, he panicked and tossed it into the air and into the sink's garbage disposal and got it shredded into pieces. With the DVD destroyed,
Gumball
and
Darwin
had to make a fake video of Alligators on a Train in order to save their butts, which lasted five seconds and more suprisingly - every name in the credits is one of them.
Random funny things

Edit
Apparently, Gumball has watched "Alligators on a Train" 72 times already.

"Alligators on a Train" seems to be a reference to (or a parody of) "Snakes on a Plane" and "Snakes on a Train".
Gumball:Alligators on a Train!
(Scence changes to Darwin with a moustache)
Darwin: Oh No! There's alligators on this tarin
Darwin: Thank goodnes, We got all the Alligatord off this Train!
Gumball: (Using a slightly high-pitched voice) Thank you so much for saving us from all the alligators on this train!
Gumball and darwin makes a make-out scene